"If you gaze long into an abyss, the abyss will gaze back into you."
Philosopher Frederick Nietzsche
John's non-fiction book is titled "Embracing the Abyss", a Texas story of greed, deception and financial fraud — Overcoming Adversity on the way to a Presidential Pardon.
John Smith was born in Nashville and raised in Oklahoma City and Dallas and is a Vietnam Veteran. After returning to the U.S. (Welcome home Johnny!) he was the honor graduate of his Army Drill Sergeant School. Obtaining an early release to attend college, he graduated Magna Cum Laude from North Texas State University with a BBA in Accounting. He spent five years in public accounting, and after the S&L crisis became an active supporter of affordable housing.
Today, John is a professional keynote speaker on perseverance and integrity overcoming adversity. He takes his audiences to the edge of the abyss and brings them back with a better understanding of integrity; how easily it can all be taken away, and the consciousness of spirituality.
Embracing the Abyss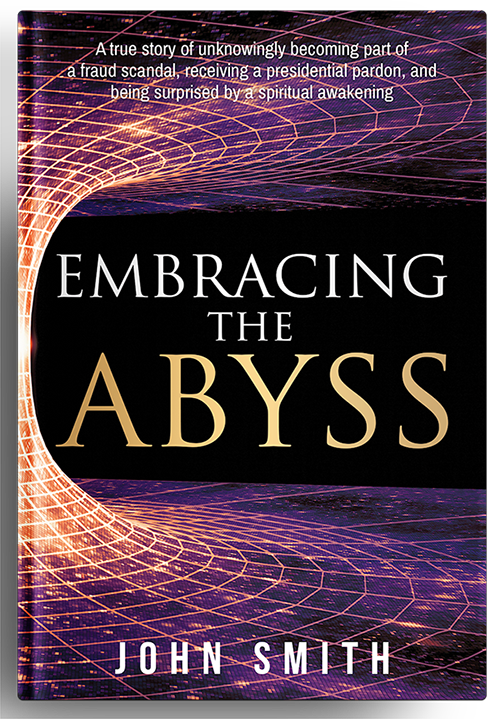 During a strikingly similar backdrop to today's financial environment of government intervention and bailouts, this is a true story of avarice and well masked schemes that demanded exceptional growth of a small west Texas Savings and Loan to conceal the fraud and looting by those at the very top.
Told by John Smith,  CPA insider, who was not part of the conspiracy and fraud, but nevertheless included in the government's $540 million dollar lawsuit as well as multiple criminal charges filed against the S&L's top officers. During the onslaught of legal actions, John came to realize the extent of wrongdoing that had occurred, learning that he too had been one of the many deceived by the Chairman and the CEO.
Loyal, conscientious and constantly pursuing perfection, John suddenly found himself embroiled in the struggle of reconciling his inner worth with the overwhelming events of criminality now imposed upon him.  His acceptance of this new reality, now involving the criminal justice system, was hampered by his denial and pretense for having fooled himself into believing that because he had not participated in any unethical behavior, he could not have been part of any crime.
Extremely hard on himself and always expecting more of himself than is reasonable, he embarks on a journey of personal transformation beginning with lengthy, poignant sessions led by his attorney and friend, Steve Brutsche'. Feeling that his predicament was due in large part to the degree of trust in those he had worked for, he once more allowed himself to trust again: this time by trusting his own inner conscience. This was the saving grace that allowed him to cross the "Rubicon", as Steve put it, and become part of the FBI's task force investigation; giving hope that he might possibly avoid prison.
Without a cooperation agreement, John plead guilty to one felony count and was sentenced to five years probation. He became a witness for the Federal government and over a 14 year period contributed significantly to the results of their investigations, saving thousands of hours and millions of dollars. For his assistance, he was thanked publicly by Federal Judge Robert Maloney and given early termination of an original five year sentence, serving less than three years of probation.
Twenty years later, in further recognition, he was given one of the very few Presidential Pardons granted by President George W. Bush.
John's book Embracing the Abyss overcoming adversity through perseverance and integrity, describing the far reaching consequences viewed from the eyes of both the prosecutors and the prosecuted. His gut wrenching observations include the difficult lesson – that you don't have to commit a crime to be convicted of one: the FBI informing him fifteen years after his sentencing — that he should never have been prosecuted.
John Smith Author Speaker